General Information
Name:
Drake Nightingale
Age:
22
Gender:
Male
Ninja Rank:
Oni Anbu Capitan
Looks: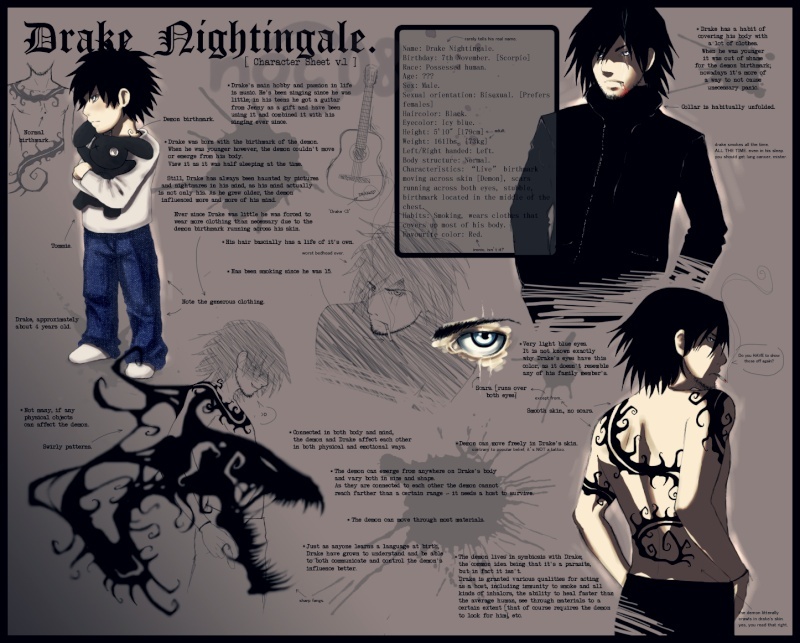 Village:
Previously Rain/ Currently Oni
Clan:
Nightingale
Personal Information
Likes:
Jennifer, Dark spaces, cigarettes, and his guitar
Dislikes:
religion [gods, holiness, ect.], large crowds, abusive men
Personality:
Cold and a loner, Drake usually like to be alone, but its only to protect his villagers. Besides these traits he is kind and caring, he hates war and fighting but will kill into the action to save the helpless.
Powers
Weapons:
Gale Rapier
Elements:
Lightning and Wind
Skills/Specialties:
Drake is and expert strategist and master of stealth. This were skills aquired as he grow up on busy and rough streets of the Amegakure no Sato; these skills allowed him to gain food and clothing.
Jutsu:
Name:Extreme Decapitating Air Waves
Rank:A
Type:Ninjutsu
Chakra Cost: 101
Element:Wind
Description:A more powerful version of the Decapitating Air Wave, the user creates a massive gust of cutting wind capable of totaling the surrounding area, wiping out anything in its path.
Name:Decapitating Air Wave
Rank:B
Type:Ninjutsu
Chakra Cost: 119
Element:wind
Description:The user forces his/her chakra around the wind and pushes it at a speeds high enough to cut through stone.
Name:Mysterious Peacock Method: Beast
Rank:A
Type:Ninjutsu
Chakra Cost: 100 for each beast created
Element:pure chakra
Description:After using the Mysterious Peacock Method, the chakra feathers change to the form of a animal, such as a dog. The chakra which the beast is made of is dense enough to repel shuriken thrown at it.
Name:Mysterious Peacock Method: Join
Rank:D
Type:Ninjutsu
Chakra Cost:0
Element:pure chakra
Description:After using the Mysterious Peacock Method: Beast, this technique can combine two chakra beasts into one larger beast.
Name:Plasma Ball
Rank:C
Type:Ninjutsu
Chakra Cost:50
Element:Lightning
Description:The user will create a lightning-based defense barrier around them which protects the user (and allies) from incoming attacks. Or it could be thrown as a lightning sphere.
Name:Lightning Release Shadow Clone
Rank:A
Type:Ninjutsu
Chakra Cost:100
Element:Lightning
Description:This technique allows the user to make a shadow clone infused with lightning. Because it is a shadow clone, it is able to perform jutsu and interact with the environment due to it having physical substance. If the clone is injured, it will revert to its natural lightning-state, at the same time electrocuting whatever it is touching.
Name:Lightning Release: Flying Thunder God
Rank:B
Type:Ninjutsu
Chakra Cost:70
Element:Lightning
Description:This technique lets the user summon lightning from the sky to their hand and then shoot it at their opponent.
Name:Lightning Release: Lightning Swords
Rank:A
Type:Ninjutsu
Chakra Cost:120
Element:Lightning
Description:The user channels electricity into his swords to increase their cutting power.
Name:Lightning Bolter
Rank:C
Type:Taijutsu
Chakra Cost:0
Element:None
Description:The user punches the opponent twice with their fist. The second launches them high into the air. The user then jumps above them and punches them back down. Then, the user disables the opponent with large shuriken from above, then lands several powerful blows while spinning like a drill, drilling the opponent into the ground.
Name:Lightning Hound
Rank:A
Type:Ninjutsu
Chakra Cost:199
Element:Lightning
Description:By manipulating lightning chakra into the dominant hand, the user can make the lightning expand to can create the form of a hound. The hound-shape remains connected to the user's hand with a bolt of lightning, allowing them to control it during its attack. Being a Lightning Release Ninjutsu, it requires a large amounts of chakra from the user to maintain and thus is a risk to use with a low chakra supply.
Name:Lightning Release: Electromagnetic Murder
Rank:A
Type:Ninjutsu
Chakra Cost:175
Element:Lightning
Description:This jutsu allows the user to create a wave of electricity from the user's hands. This jutsu can vary in power from a small surge to shock an opponent to a powerful stream of lightning capable of ripping through solid rock. It is ideal to use in conjunction with a water jutsu.
Name:Wind Release: Godly Wind from the Mountains
Rank:C
Type:Ninjutsu
Chakra Cost:40
Element:Wind
Description:This technique creates a vortex of wind to blast at a target.
Name:Wind Release: Rotating Shuriken
Rank:C
Type:Ninjutsu
Chakra Cost:50
Element:Wind
Description:This jutsu will infuse wind-based chakra into bladed weapons. The user can than manipulate the blades in a spinning manner to attack the target.
Name:Wind Release: Violent Wind Palm
Rank:C-B
Type:Ninjutsu
Chakra Cost:40-65
Element:Wind
Description:A simple technique that sends a gust of concentrated wind at the opponent. When used with a weapon such as a shuriken the weapon can become fatal. Also if the technique is combined with another elemental Ninjutsu such as fire, it becomes deadly.
Name:Rising Dragon
Rank:D-C
Type:Taijutsu & Ninjutsu
Chakra Cost:20-45
Element:Wind
Description:This is a Taijutsu move that empowers the user with hurricane-like winds in their punches cause the opponent and user to rise into the sky and with more speed these punches do a little bit more damage.
Name:Shocking Kick
Rank:D
Type:Taijutsu & Ninjutsu
Chakra Cost:20
Element:Lightning
Description: This is a combination Taijutsu move after the Rising Dragon has been used u can then use this to maximize damage done after the punch connects if it does then the user can then spin around stomping on the opponent he/she then engulfs his/her foot with strong electrical currents and kicks the opponent in the chest sending them back about 10 feet.
Name:Wind Release: Air Combo
Rank:B
Type:Taijutsu & Ninjutsu
Chakra Cost:75
Element:Wind
Description:This is usually used as a long range attack where the user starts a combination of punches and kicks that send blasts of chakra infused air towards the opponent at high speeds
Name:Verdant Mountain's Violent Wind
Rank:B
Type:Ninjutsu
Chakra Cost:60
Element:Wind
Description:By using wind-based chakra, the user can infuse his/her chakra with bladed weapons from a distance and manipulate them from a distance
Name:Ultimate Wind Slash
Rank:S
Type:Ninjutsu
Chakra Cost:250
Element:Wind
Description:Using a sword the user can use vast amounts of their chakra around to bend the wind around their blade to send a huge gust of chakra infused wind at the opponent wind force enough to cut through a tank but its usually a one shot jutsu
Name:Gale Force: Sing
Rank:S
Type:Ninjutsu
Chakra Cost:300
Element:Wind & Lightning
Description: Useing both elements he controls he creates a small tornade of lightning swirling around his blade along with chakra infused wind moving at high speeds
Name:Regeration
Rank:A
Type:unknown
Chakra Cost:150
Element:unknown
Description:Using the demon parasite on his body Drake can instantly grow missing limbs back at the cost of his own chakra
Name:Manifastaion
Rank:A
Type:unknown
Chakra Cost:150
Element:unknown
Description:This allows drake to extend the demon and solidify it to create weapons and shields
Name:Specter
Rank:A
Type:unknown
Chakra Cost:150
Element:unknown
Description:The parasitic demon is able to go through objects allowing long ranged attacks or reconnaissance missions.
Name:Partial Transformation
Rank:A
Type:unknown
Chakra Cost:150
Element:unknown
Description: Drake allows demon to solidify around his body and take control but only for a while because of the vast amount of chakra needed to sustain this form.
History & RP Sample
History:Before Drake:
Running through the forest the air around seemed to be thinner than usual yet Iva Nightingale ran for dear life. The stunning young woman, around the age of 16 with flowing wait-length black hair had mistakingly veered off into zones of the Amwgakure no Sato labeled as a dagerourly high warzone. Being out numbered her natural reaction is to run back to the village or at least elude her persures, but with now trees in sight and all houses in peices she colasped partly from exhaughtion and the rest was her mind telling her to give up and except her fate. As her body hit the she suddenly felt weightless like she was floating and she swore he heard blood curdeling screams but as she opened her eyes she say a extraordinarily handsome man stared down at her.If he wasn't drenched in blood she would have believed he was an angel sent to guide her to heaven. He smiled to comfort her as she past out.Once she fainted the man looked back to see his ninja squad finishing of the last Leaf ninja that chased Yui; they then lead the man back to the clans section. Upon their arrival the men celebrated with the clan but the one beautiful man stayed by the side of the girl, never taking his eye off of her as if she was his own experiment. After 3 hours he drifted off to sleep just as she was waking up. She stood and glanced around the dimmly lit room but saw the man as if he had his own light emitting for him. She struggled to stand and trembled at her own weight but managed to make it to the guy. She placed a hand on his face and rubbed his smooth pale skin as it was amazing that one man could be so perfect in features. He soon felt heir soft touch on his skin and peered up "Thank that gods" he says with a slight smile "She lives to see another day, and after a long silence the two slowly leaned forwards towards each other. But to her surprise she never felt his lips meet her's...that feeling she had burned inside of he as she opened her eyes to see no one was there ""Why my God... why must you torment me so...showing me your angels then calling them back" she wept slowly and quietly. A few months passed and she never saw this man again but as she walked back to the room she first woke in. As she waked through the door she saw the man sitting just as she remebered him "Are you real" she asked. He just grinned "Of course my dear" he replied in a voice that will make the most skilled siren jealous. She couldn't help herself it was as if he were a huge magnet pulling her towrds him, but as she was about to kiss him he left again. A year has passed and Iva has married but still dreams of The man. On one dark night she walked to that same room and once again he stood there just as beautiful as she remembered. No words were spoken as she ran to him and placed a kiss upon his lips as if she hadn't seen him in 10 years. After the kisses the gazed into each others eyes for a few minute before making love right there in the room. The 'encounter' lasted all night, but after she closed her eye as the sun rise he vanished. From that day on she never saw him again every day she would sneak out from under the suspious eyes of her husband but the man never came. Three months had passed and Iva found she was expecting but she didn't know if it was her husband's or the man she longed for. She considered aborting it but then she would look suspicious so she told her husband and hoped for the best. The other six months were nerve wracking as she hoped it wasn't the stranger's child, and on November 7 her water broke and she was rushed to a very run down hospital with ill and dying soldiers everywhere. She starts to cry partly because of pain the rest is because she believes her husband isn't the father. The birth was more stressful than the pregnancy but soon she hard a docter say "Is see the hard....black hair...it's a girl" she sighed as she remembered the stranger had silver hair. She relaxed and the child were pulled out, but there was no cheering or cries of joy as she expected but in it's place was dead silence. "Its a boy...a black-haired Nightingale male" the doctor says and her husband's face turnrd paler that it was. "My love...it most be a defective gene or something" she tries to explain but her husband looks at the doctor "It is possible sir" the doctor say and Iva sighs with relief. "I think Drake is a great name isn't it." she looked up with innocent eyes and the 'father' nods "Drake it is" he said with hate and spite in his voice.
Drake's Childhood
The early years of drake's life were fairly normal. The man he called father took great care of him, feeding and clothing him everyday. He played and got along with the other nightingale children but soon the boys stopped even looking in his direction. He was hurt and asked his mother why she looked deeply into his teary eyes "My son...those boys are just jealous of your beautiful black hair and do not mind them. besides you still play with Jenny right." As she said Jenny a smile appeared on his face
"Yes mother she is my best friend and one day we will get married"
but his mother laughed "Now Drake isn't it too early to be speaking of marriage." He nodded
"Yes mother"
he replied and walked to his room to take a nap. Two years passed and Drake hadn't even spoken to anothe male even his father just nodded and shook his head at Drake's questions, but Jenifer,the clan elder's granddaughter, stayed by him as if they had been married forever. That year went as normal but on November the second his mother fell ill so his father decided to bathe his 'son' for his birthday. As the man bathe Drake he noticed there was a mark near his neck, so he scrubbed it till Drake's skin turned red and he stopped for a while. This time when he tried to scrub it the little mark wiggled and this made the man jump back "Oh my god....what are you" the man said then bolted from the house leaving Drake crying and naked in the bathroom for hours until his mother found and clothed him.
Teen Years and Awakening Powers
From that day on Drake never spoke and his eyes, once brown, were now an icy blue and this made his mother happy since her husband never returned and Drake's enhuman eyes reminded her of the strange beautiful man. Jenny kept Drake company but he never spoke, he went to the academy and passed top of his class but no one ever heard his voice except his mother when he would talk, twist and turn in his sleep then wake up crying and chanting
"No not mommy"
and this continued for five more years that is when drakes mother was murdered by the man he call father for five years, the exact same man that left him ten year ago had kill his mother in cold blood right in front of him then he turned to Drake we a sinister grin and his hand was ablaze it his fire attributes "My son come give your old dad a hug." Drake walked to the man and just at the guy was about to burn Drake to death his body stopped then a serpent like tattoo rose from Drake's hand and smiled
"I AM FREE!!!!"
The serpent hissed and wrapped around the man's neck
"And you are my next meal"
it smiled and drained all of the mans chakra very quickly. Drake looked at the serpent with stern, commanding eyes and the serpent sighed
"Yesss my lord"
it hissed again and wrapped around Drake's body like a huge tattoo.
"From this day forth I have no family and few friend......but everyone else shall be my enemy."
Thus Drake The Demon Manipulater is born and travels the Shinobi Nation learning various jutsu, he even trained under the Star Ninja before killing them. His violent actions caught the attention of the Akatsuki as he was 18. They challenged him, allowing him to choose among them.
"You there with the weird red eyes"
he sais as he pointed to the Akatsuki named Itachi Uchiha. Their bout lasted at least an hour yet Itachi seemed as though he was unphased unlike Drake who was very Short of Breath and low on chakra. Drake grinned
"I....can kill...anyone"
he said breathing heavily. Itachi stood there as Drake rushed at him with his long katana extended as dust swirled around it ((indicating he is using his true father's wind element)) and his speed increased and he swung his sword with all his might creating a huge blast of chakra infused wind that made even Itachi nervous, but yet again he doged it leaving an exhaughted Drake lying on the ground the Akatsuki know as Pein says "Leave him and we will test him again in a few years....he has potential.
Oni Liberation
After this Drake was in a coma for 3 months. Later he left the Rain for good and came across the Oni village. After hiding for a few months he found the leader of the village and assassinated him. Fortunatly the villagers hated the former leader and accepted Drake as the new Oni Kage, but he kindly refused. Feeling as if they owed him the new Kage dubbed Drake the Elite Anbu Capitan.
Rp Sample:
"Jenny I'm leaving" Drake says as he stuffs clothes into a small old bag then turns to face the teary eyed 14 year old girl. "B-But why Drake...I thought you lo..." she was cut off as Drake pulled her into a hug then whispered into her ear "I love you...I really do but I cant Stay and you can't follow me," he said in a calm soothing voice. She couldn't speak. She couldn't fathom life without Drake, the one and only boy she ever loved. He backed away slowly then kissed her deeply as a single tear feel from his eye. She break out into tears "Oh Drake why...why must you leave?' she asked. He looked at her "My parents....are dead" he said with a cold tone. She looked confused for a while then gasped "Drake...you didn't kill them did you" she whispered. He just sighed "He killed my mother....he deserved to die." She sighed "Will I see you again." He looked away "Lets Hope so" he sats as he walks out of the room leaving Jenny with a picture of them as kids laughing and playing.
Drake sighs "That was three years ago" he says and he lifts his hand. When his palm was inches from his face a serpent-like tattoo slithered up and spoke
"I sense strong ninja....they are approching fast from your right."
Drake grinned "So they have found me" he laughed and turned to the right to face three ninja "The Akatsuki I presume." The orange -haired man looked at Drake "And Your are Drake Nightingale...the Demon ninja we heard so much about." Drake grinned "yeah that's me and I'm guessing you want me to join."
"Not till we test you....now choose one of us as an opponent."
Drake thinks "Hmmmm...I choose your there with the red weird eyes" he points to Itachi and the fight begins.